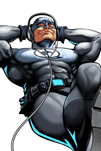 Please Leave a Message...
CGS: Episode 863
(June 9, 2010)
We let the listeners speak geek in this all voice-mail episode. Hear feedback on previous episodes, recent movies, leftover Blackest Night reactions and a slew of Lost finale thoughts. (1:33:23)
Listen to the show!
Add this episode to your website
Share
Shownotes
Related Episodes
Comments
Show notes coming soon.
Look up your favorite comics (Superman, Black Cat) or topic (Artist Interviews, Reviews)