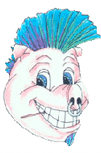 Wild Pig Sale Recap
CGS: Episode 730
(November 16, 2009)
We're back from the Wild Pig sale and as usual it was awesome. We had fun times with friends, we got great deals, and there were adventures with leaking roofs! It's all here in this episode. (1:09:00)
Listen to the show!
Add this episode to your website
Share
Shownotes
Related Episodes
Comments
(07:23) SUPER SHOW NEWS
New early bird ticket artists! And we pick a few more winners in the
Early Bird Super Show Ticket Contest
.
Buy your tickets
early to enter!
(13:29) CGS NEWS
Book of the Month Club is being restructured for 2010! Listen in for early details!
(19:06) CON TALK
The Wild Pig sale is over! So we talk about the fun, friends, a leaking roof, hip hop manifestos, shopping and more.
(59:14) STUMP THE RIOS
Sponsored by
Comic Break
; submitted by Voltron.
RECOMMENDED READING
3 Story
by Matt Kindt
WEBSITES MENTIONED
Ants
webcomic by Julian Lytlse
Brooklyn Comics and Graphics Festival
, Sat. December 5th
Look up your favorite comics (Superman, Black Cat) or topic (Artist Interviews, Reviews)